TV Funhouse Ace Costume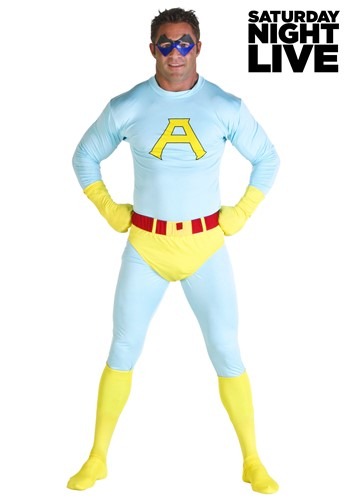 It used to be that two superheroes could dress up in baby blue spandex and head outside in their oddly phallic-shaped car to stop criminal activities without any sort of strange looks. These days, people give you an awkward glance if you gently pat your friend of friend's buttocks to let him know that he's doing a great job fighting super villains. It's too bad, since Ace and Gary are such nice superheroes, but they can never seem to escape that eye of judgment by the non-superhero community. It's about time you showed your support for the duo!
This TV Funhouse Ace Costume brings you outfit worn by the leader of the Ambiguously Gay Duo. It's officially licensed from the Saturday Night Live sketch, so you can rest assured you'll have the ambiguously awesome look from the show. It comes complete with a light blue spandex jumpsuit that has a form-fitting style. It even has the signature "A" printed on the front. Once you have it on, you can give Gary a call up for a little action…crime fighting action that is!
Saturday Night Live and its related characters and trademarks are property of NBCUniversal Media, LLC. Licensed by Universal Studios Licensing LLC 2016. All rights reserved.